First Meeting of the Association for Chinese Studies in Ireland
13 December 2006
The 13th of December, 2006 marked a milestone for Chinese studies in Ireland, with the establishment of a steering committee to launch The Association for Chinese Studies in Ireland (ACSI). The meeting was attended by researchers, lecturers and research students in Chinese studies from various higher learning institutions in Ireland. The Association aims to encourage Chinese studies in Ireland, in particular by stimulating research and teaching.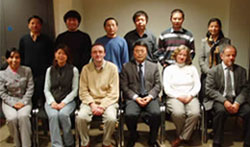 Among those in attendance were Professor Cathal Brugha of UCD Quinn Business School; Dr Richard O'Leary and Ms Deirdre Wildy from Queen's University Belfast; Dr Liming Wang, Professor Luxing Li and Dr Lan Li from the Irish Institute for Chinese Studies, UCD; Dr Hwee-San Tan of UCD School of Music; Professor Rong Du, Prof Shizhong Ai from Xidian University, Xi'an, China, who are currently Visiting Scholars to UCD; and a number of research students from UCD and NUI, Maynooth.
The meeting also saw the election of a number of officers of the new Association. They comprise Dr Liming Wang (Chair), Dr Richard O'Leary (Secretary), Dr Hwee-San Tan (Treasurer), four Council members comprising Professor Hong Fan from UCC, Professor Rong Du, Ms Deirdre Wildy, and Mr Victor Huang as postgraduate student representative. The constitution for the Association was discussed and approved by all members at the meeting.